Room Remodel and Electrical Switches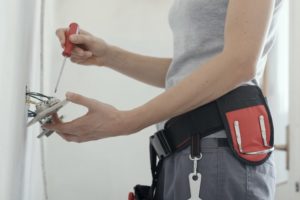 Are you looking to remodel a room in your home soon? One of the key areas to factor in a remodel is what electrical changes need to be made. The professionals at JMC Electrical can help you plan and execute those changes. They will help you navigate through the numerous choices you will have starting with something as basic as residential electrical switches. As you upgrade switches, light fixtures, outlets and more JMC Electrical can ensure your new space is not only beautiful but wired safely.
There are numerous choices when it comes to residential electrical switches alone.
Single Pole Single Throw Switch (SPST)

Single Pole Double Throw Switch (SPDT)

Double Pole Single Throw (DPST)

Double Pole Double Throw Switch (DPDT)

Push Button Light Switch

Toggle Light Switch

Selector Light Switch

Proximity Switch

Photoelectric Switch

Dimmer Light Switch

And more…
How many amps does your switch need to be able to safely hold? That's an important question because you want to make sure you have enough to do the job, but you don't want to over spend for a set up that is way more than you need. JMC Electrical can make sure you install what you need and keep you within your remodel budget.
Are you replacing traditional light fixtures with LED fixtures? How does that change effect the residential electrical switch, outlet and circuit breaker needs of your remodel? How does an LED TV effect your outlet needs? These are the types of questions that the professionals at JMC Electrical can answer and help you plan for as a part of your remodel.
Value is always important when considering your electrician needs. We are licensed, bonded and insured, and offer a manufacturer's warranty on all parts that we supply. We also offer a 24-hour emergency service. If you need a residential home electrician during any time of the year, call JMC Electric at (913) 362-2100 or visit our website at https://www.jmcelectrickc.com/