Residential local electricians JMC Electric can help with storm damage and repairs
Residential local electricians can help because storm damage electrical repair is a common issue. JMC Electric can help customers within the Kansas City metro area.  Storms can cause major damage not only to your homes roof, siding, and windows but also the wiring in and out of your home.
There are storms like tornadoes, but also storms such as thunderstorms, hail storms, heavy rain and snow storms, and freezing rain or ice storms.  Thunderstorms can cause massive power surges damaging your homes electronics, appliances, and wiring.  Residential local electricians can help when heavy snow and ice storms cause damage when overhead wiring rips service mast off the side of your home and causes major physical damage.  Heavy winds can blow down trees, hitting overhead service lines.  Even a tree coming in contact with the power grid can cause massive surges and still damage your home even miles away from the incident.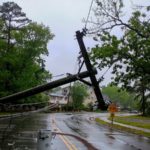 With no electricity in your home you can often experience more damage than the initial storm presented.  Sump pumps protect your homes basement from incoming water.  Heavy rains and ground water may continue to flow for hours or even days from the time your home or business lost electricity.  Flooded basements depending on the level of finish can cost thousands of dollars or even hundreds of thousands of dollars to repair.  Even winter time power outages can cause damage.  Your furnace runs on electricity and without it you may not have any heat in your home.  Without heat pipes can freeze and burst flooding your property. Residential local electricians JMC Electric are a 24-hour emergency company.
If you have homeowner insurance or insured items that have been damaged or destroyed during this type of storm and try to fix things on your own, this often compromises your policy. The insurance company will likely refuse to pay and you'll be forced to replace such items out of your own pocket-something that be an expensive proposition. A professional residential local electrician like JMC Electric can make sure your electricity is repaired correctly.
When there are power outages, the resumption of that power comes with no advance notice or can occur almost immediately. That leaves individuals vulnerable to the prospect of power surges, which can quickly and quietly cause a great deal of damage and lead to electrical surge repair. That means the next step is to contact an residential local electrician to get things back in working order.
JMC Electric's residential electrical services include panels, switches, troubleshooting, remodel wiring, exterior electrical work, and more.
JMC Electric is licensed, bonded and insured, and offers a manufacturer's warranty on all parts supplied. They also have 24-hour emergency service.
Contact JMC Electric at (913) 362-2100 for a free estimate today.