Residential Electrical Wiring In Kansas City Is Done Professionally By JMC Electric
Residential electrical wiring in Kansas City by JMC Electric offers many different types, from remodel wiring to new construction custom wiring. JMC Electric is proud to have provided expert residential electrician services since 2002 to the Kansas City Metropolitan Area. Fully licensed and insured electricians take pride in their work and customer service.
If you are building a new residential or commercial property in the Kansas City area, JMC Electric is the electrical contractor you can rely on for all your residential electrical wiring service and installation needs. Our commercial electrical contractors are trained to help you with the optimization of the performance of your company's electrical system.
Are you looking to replace a fixture? We can help install the new one. We can also help you upgrade to more efficient types of lighting. Fluorescents and many types of LED lighting require special ballasts and residential electrical wiring to work properly. We can help you identify the right components for your lights, and then install them to help promote the longest life-span for your lights.
Low voltage or line voltage, we'll run the cables for you and get your lights set up. It doesn't matter if you're installing lights for a new room or repairing your home or office after a major disaster, we can handle the job just the same. We know lights and can install, maintain, or repair fixtures.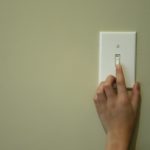 JMC Electric has a proven track record of serving the residential electrical wiring needs throughout Kansas City, and the surrounding areas. When you need professional commercial electricians for your new construction project, remember that JMC Electric has the knowledge, skill, and professional experience to get the job done right the first time. Here, "Quality is our Habit." Discuss your new construction project with an expert Kansas City electrician and get an estimate for the cost of your electrical service needs.
Incorporated in 2002, JMC Electric offers expert residential home electrician, commercial business electric, and industrial electrical services to Kansas City and the surrounding area. We do everything from circuit breakers, panel upgrades, electrical troubleshooting and ceiling fans to diagnostics, residential electrical wiring, and efficiency upgrades.
We are dedicated to our clients and provide prompt, courteous, and professional service at competitive pricing. All of our work is guaranteed and we honor the manufacturer's warranty on all installed parts. We even offer emergency service on weekends and after hours.
For more information about residential electrical wiring, call JMC Electric at (913) 362-2100 or (816) 298-0100. For a free quote, click here.