Residential Electrical Home Wiring Kansas City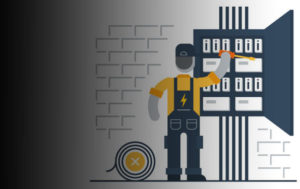 We work hard to bring you the most competitive prices and the highest quality electrical service in Kansas City. JMC Electric upgrades and installs any service equipment and brings the grounding up to code and can also suggest other changes to increase your electric service efficiency. As a business or homeowner, you want electrical tasks done right the first time because faulty installation or repair could be disastrous to your business or home and wallet. JMC Electric technicians will also show you how our safety devices and proper installation can prevent any future electrical issues.
HOME WIRING AND MAINTENANCE
Whenever you need to maintain or fix your home's electrical system, give JMC Electric a call. We provide the full set of licensed electrical work in Kansas City, from minor switch repairs, upgrades and rewiring in homes, to commercial electrical service and repair or complete design-build commercial electrical systems for new or retrofit facilities. JMC Electric has been the leader in electrical services since 2002 providing superior service within the state of Kansas and Missouri for commercial customers and are proud to provide residential electrical services in the Kansas City area. The foundation of our business is exceptional customer service and we want to be your electrician of choice. If your wiring hasn't been replaced within the last 20 years, there's a good chance that all or part of your home needs to be rewired.
RESIDENTIAL SERVICES
If you suspect electrical components in your home aren't performing safely, contact us as soon as you detect a problem and our electricians will perform a thorough evaluation of your problem to accurately identify the source of the issues you are experiencing. Looking for a Great Electrician in Kansas City? We are the electrical company for you! We have over 80 years combined experience in the electrical service industry with our licensed, courteous, prompt and efficient technicians. JMC Electric specializes in residential service so whether it's upgrading fixtures, increasing safety or conserving energy, our goal is to provide excellent electrical service and repairs.
Value is always important when considering your electrician needs. We are licensed, bonded and insured, and offer a manufacturer's warranty on all parts that we supply. We also offer a 24-hour emergency service. If you are in need of a residential home electrician during any time of the year, call JMC Electric at (913) 362-2100 or visit our website at https://www.jmcelectrickc.com/
In business since 2002, JMC Electric offers home, residential and business contractor services in Kansas City and surrounding communities.