Hiring Professionals Like JMC Electric For Residential Ceiling Fan Installation Means Safety First
When it comes to residential ceiling fan installation that requires knowledge about electrical wiring, it's best to leave it up to the professionals like JMC Electric. Installing ceiling fans throughout your home provides more than cost savings and improved comfort.
When and if it comes time to put your home on the market, ceiling fans won't necessarily drive the value of your home up significantly, but they will be a draw for buyers.
JMC Electric can assist you with adding, repairing, replacing or even removing a ceiling fan in Kansas City. A ceiling fan redo is an inexpensive way to add a new look to your home or interior design project.
Without a professional residential Kansas City electrician to help you in your attempt to install a ceiling fan, you may run into complications with the wiring, or even issues hooking up the wall-mounted switches that control the fan.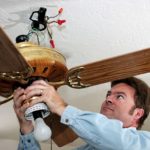 Don't forget that attempting to do any electrical work always carries the risk of electrocution if not done properly. Residential homeowner ceiling fan installation is best done by a professional company to avoid any complications or accidents.
JMC Electrical Service, Inc. offers these detailed ceiling fan services:
Ceiling fan repair
Residential ceiling fan installation
Ceiling fan consultations
Outdoor ceiling fans
Ceiling fan wiring
Ceiling fan light installation
Ceiling fan repair parts
Modern ceiling fans
Ceiling fan motor repair
Lighting fixtures
Designer ceiling fans
Bedroom ceiling fans
JMC Electric was founded in 2002 and has been growing and earning praise ever since. It began as a one-man endeavor and grew into a family business. The owner and founder is a licensed master electrician with 25 years of experience and now has several skilled technicians, managers, and support staff.  The team focuses on the electrical service and repair side, providing electrical services to the Kansas City metropolitan area.
For more information about residential ceiling fan installation, contact JMC Electric at (913) 362-2100 or (816) 298-0100.