Residential Ceiling Fan Installation In Kansas City Is Beneficial For Your Home In Many Ways
Residential ceiling fan installation in Kansas City is done by JMC Electric in Kansas City and surrounding areas. There are many benefits for having a ceiling fan installed, including reduced energy bills and increasing the value of your home.
If you've been going back and forth on deciding whether to include a ceiling fan in your home, you may find an increased benefit to the circulation of air flow in various rooms. Popular rooms for ceiling fans include:
Kitchen
Dining Room
Living Room
Kids Bedroom
Adults Bedroom
Entry way or Hallway
Aside from an increase in air flow in your home, ceiling fans have other benefits as well. The most popular are:
Reduced energy bills: While ceiling fans aren't typically used to cool a room's temperature, they are used to increase airflow which helps mix both hot and cool air in your room. Because of this, they help homeowners save roughly 30 to 40 percent on electric bills. To get more energy savings, you can purchase a ceiling fan with an Energy Star label on it.
Layered lighting: Another popular benefit of residential ceiling fan installation Kansas City is its ability to increase lighting in a room. Most ceiling fans come with the option to have one light or multiple light bulbs.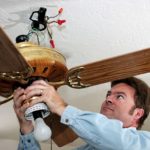 Functional: As you can see from the list above, ceiling fans can be used in a variety of rooms which make them very functional for everyday use. They are also able to be used year-round and should continue to be used even in colder months. Most ceiling fans have the ability to switch their circulation patterns so you can go from clockwise to counterclockwise, depending on the season.
Increase a home's value: If you are thinking of contacting a real estate professional to put your home on the market, you may find that a home with a residential ceiling fan installation Kansas city is pleasing for a home buyer when they walk through the home. And, including your ceiling fans in the home's asking price can increase the value of your home and give you an upper hand on making a sale in the real estate market.
At JMC Electric, we can assist you with adding, repairing, replacing, or even removing a ceiling fan in Kansas City. A ceiling fan redo is an inexpensive way to add a new look to your home or interior design project.
Without a professional residential ceiling fan installation Kansas City electrician to help you in your attempt to install a ceiling fan, you may run into complications with the wiring, or even issues hooking up the wall-mounted switches that control the fan. Don't forget that attempting to do any electrical work always carries the risk of electrocution if not done properly.
For more information about ceiling fans and installation, call JMC Electric at (913) 362-2100. To receive a quote, click here.