Residential Ceiling Fan Installation With JMC Electric Offers Different Types Of Fans
Residential ceiling fan installation in the Kansas City area with JMC Electric is available to install all types of ceiling fans, including designer, modern, outdoor, and bedroom ceiling fans. At JMC Electric, we can assist you with adding, repairing, replacing or even removing a ceiling fan in Kansas City. A ceiling fan redo is an inexpensive way to add a new look to your home or interior design project.
Ceiling fans come in three mounting styles: flush mount, universal/standard mount, and those for an angled ceiling mount. There are things to consider like fan speeds, blade lengths, whether you need a ceiling hugger fan or one that has a pipe to hang it closer to the floor. JMC Electric is ready to help when it's time for residential ceiling fan installation as to which type of ceiling fan is best for your home.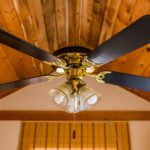 Simple ceiling fan designs can be turned on and off by pulling a cord or flipping a switch. Models that are more elaborate may have dimmers or even use a remote control to set lighting or change fan speed. If you choose a remote control, JMC Electric will make sure the remote is compatible with the type of fan you are purchasing. Some remotes are universal, while others are recommended for use with only certain brands of fans.
Many ceiling fans offer at least three speeds, although some may offer four or more. While ceiling fans are frequently used to keep certain areas cool, most also offer the option of reversing the fan's motion to distribute heat in colder months. Residential ceiling fan installation by JMC Electric will follow through with every fan installed with detailed instructions for the homeowner.
Aside from functional differences, ceiling fans also vary in style. They may have three, four or five "paddles" or blades. These blades commonly range in size from just over two feet long to a little over four feet long. The size and number of blades needed is dependent upon the size of the room the fan will cool. JMC Electric will help you determine the configuration most suitable to your needs.
For more information about residential ceiling fan installation, call JMC Electric at (913) 362-2100. To request a free, no-obligation quote, click here.