Residential Ceiling Fan Installation In Kansas City Is Done Professionally By JMC Electric
Residential ceiling fan installation in the Kansas City area can be done by JMC Electric. They can assist you with adding, repairing, replacing or even removing a ceiling fan in Kansas City. A ceiling fan redo is an inexpensive way to add a new look to your home or interior design project.
Without a professional residential Kansas City electrician to help you in your attempt to install a ceiling fan, you may run into complications with the wiring, or even issues hooking up the wall-mounted switches that control the fan.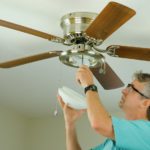 Don't forget that attempting to do any electrical work always carries the risk of electrocution if not done properly. The professionals at JMC Electric are professionals with residential ceiling fan installation in the Kansas City area.
Let JMC Electric worry about the details so you can enjoy the result!
JMC Electrical Service, Inc. offers these detailed ceiling fan services:
Ceiling Fan Repair
Ceiling Fan Installation
Ceiling Fan Consultations
Outdoor Ceiling Fans
Ceiling Fan Wiring
Ceiling Fan Light Installation
Ceiling Fan Repair Parts
Modern Ceiling Fans
Ceiling Fan Motor Repair
Lighting Fixtures
Designer Ceiling Fans
Bedroom Ceiling Fans
Installing ceiling fans into your home's design has many benefits that surpass cooling off a room. Incorporating well-functioning ceiling fans in the entire home significantly minimizes energy costs and also offers comfort, sophistication and wonderful lighting. Although setting up a new ceiling fan may appear like a pretty simple task, it doesn't mean you should do it yourself. It is wise to leave the task of residential ceiling fan installation in Kansas City to the professionals like JMC Electric.
Besides residential ceiling fan installation in Kansas City, JMC Electric services include panels, switches, troubleshooting, remodel wiring, exterior electrical work, and more:
Ceiling Fans
Expert Troubleshooting Electricians
Storm Damage and Repairs
Design and Build Electrical Solutions
220 Volt circuits
Hot Tubs Wired and More…
In business since 2002, JMC Electric offers home, residential and business electrician services in Kansas City and surrounding communities.
Call JMC Electric at (913) 362-2100 for your ceiling fan needs today. For a free electrical service quote, click here.