Residential Ceiling Fan Installation Done By Professionals Like JMC Electric Is Safer And Less Expensive
For residential ceiling fan installation, JMC Electric can assist you with adding, repairing, replacing or even removing a ceiling fan in Kansas City. A ceiling fan redo is an inexpensive way to add a new look to your home or interior design project.
Without a professional residential Kansas City electrician to help you in your attempt to install a ceiling fan, you may run into complications with the wiring, or even issues hooking up the wall-mounted switches that control the fan. Don't forget that attempting to do any electrical work always carries the risk of electrocution if not done properly.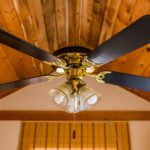 Residential ceiling fan installation is one of those jobs that you may think you can do yourself. It seems easy enough to connect a few wires and tighten a few screws.
However, an improper installation of your ceiling fan can have negative consequences. Here are some things that you can count on an electrician to do to avoid any damage:
Proper ceiling box – Different fans require different ceiling boxes. Using the wrong ceiling box will cause the fan to not be supported properly. An electrician is knowledgeable in which box to use with each fan.
No ceiling damage – A ceiling fan can cause damage to the ceiling of your house if it is not buffered correctly. Proper buffering can be completed by JMC Electric.
Correct wiring – One of the most challenging parts of residential ceiling fan installation is correctly connecting the wires. Incorrect wiring can be extremely dangerous and even cause a house fire. JMC Electric will make sure that your ceiling fan is wired correctly.
Quick installation – An experienced electrician from JMC Electric will be able to install a ceiling fan much quicker than you will be able to. This gives you more free time to focus on other responsibilities.
JMC Electric offers these detailed ceiling fan services:
Ceiling Fan Repair
Ceiling Fan Installation
Ceiling Fan Consulations
Outdoor Ceiling Fans

Ceiling Fan Wiring
Ceiling Fan Light Installation
Ceiling Fan Repair Parts
Modern Ceiling Fans

Ceiling Fan Motor Repair
Lighting Fixtures
Designer Ceiling Fans
Bedroom Ceiling 
In business since 2002, JMC Electric offers home, residential and business electrician services in Kansas City and surrounding communities.
For more information on residential ceiling fan installation by JMC Electric, call (913) 362-2100.