Kansas City Electrical Service Panel Upgrade Starting At $995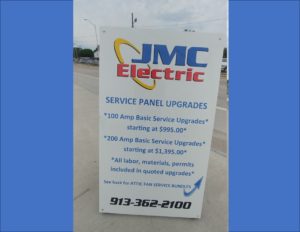 The electrical service panel of your home wiring system is its core, as well its link to the outside electrical grid, from where you get all of your electricity. If your electrical panel is unable to support the amount of electricity that you use in your Kansas City home, you could see power outages, and you may be creating a very dangerous situation in your home. The electricians at JMC Electric can help you determine whether your panel needs an upgrade, then we can take care of the job.
We currently have two specials running:
100 Amp Basic Service Upgrade Starting At $995.00*
200 Amp Basic Service Upgrade Starting At $1,295.00*
Value is always important when considering your electrician needs. We are licensed, bonded and insured, and offer a manufacturer's warranty on all parts that we supply. We also offer a 24-hour emergency service. If you are in need of a residential home electrician during any time of the year, call JMC Electric at (913) 362-2100 or visit our website at https://www.jmcelectrickc.com/
In business since 2002, JMC Electric offers home, residential and business contractor services in Kansas City and surrounding communities.
*All labor, materials, permits, included in quoted upgrades.