Improperly Installed Electrical Wire To Junction Boxes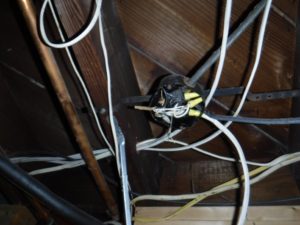 "JMC Electric, a residential electrician contracting company, recently was on site in Kansas City, MO for a home owner in the middle of a sale that had improperly installed wire to junction boxes.
For the approval of that sale, the home inspector noted to have the wiring corrected and run through the joists and correctly installed in to junction boxes with appropriate covers for safety. The home owner contacted JMC Electric and scheduled the work for the next day.
In the matter of a few hours the work was complete with a few outlets replaced as well. The sale was finalized the fallowing afternoon.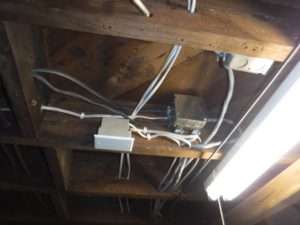 In business since 2002, JMC Electric offers home, residential and business electrician services in Kansas City and surrounding communities.  If your house has been struck by lightning, or you want to discuss protection options against lightning strikes, give us a call.
Contact JMC Electric at 913-362-2100 or (816) 298-0100 for a free estimate on all your local residential electrician interior and exterior lighting solutions.