Electrical Mast Service Kansas City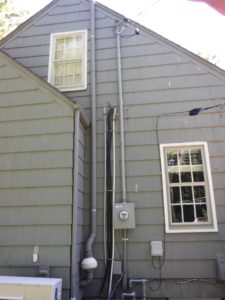 "JMC Electric is always ready to update your Kansas City electrical service mast. JMC Electric offers home, residential electrical mast services in Kansas City and surrounding communities. Bringing it to the right height, most utilities require 12 ft clearance above any walking area and 16-18ft over any driveway. JMC Electric in the Kansas City metro and surrounding suburbs has been repairing and replacing Service masts making a sometimes complex task to navigate between city and county jurisdictions to meet permit requirements. Utility companies such as KCP&L, BPU, Westar, and IP&L have some great employees and supporting staff but as a home owner sometimes understanding what is required of you can be daunting task. 
JMC Electric turns this in to a turn key operation. With a simple call to our office staff at 913-362-2100, we will contact utility company, city/county or any other controlling jurisdiction and start the process. We will have a walk through on site with you and utility representatives. After all costs and requirements have been confirmed you will be sent a contract by email in the form of a PDF. Paper copy's can also be hand delivered upon request. With a clear scope of work and all costs on paper a signature and minimum 10% deposit will be needed to schedule the work.
Turn around time pending utility and controlling jurisdiction can be 2-3 days to 2-3 weeks. Onsite work is usually completed in 8 hours or less. Power disconnections typically are 4-6 hours. All debris and new materials will be installed and removed as needed. Remaining balances are collected at time of service and after any inspections. 
When our technicians leave you will be up and running with the peace of mind if you have any future problems or questions JMC Electric has a lifetime workmanship warranty and back all manufacturers warranties. "
In business since 2002, JMC Electric offers home, residential and business electrician services in Kansas City and surrounding communities.  If your house has been struck by lightning, or you want to discuss protection options against lightning strikes, give us a call. 
Contact JMC Electric at 913-362-2100 or (816) 298-0100 for a free estimate on all your local residential electrician interior and exterior lighting solutions.