Ceiling Fan Installation Kansas City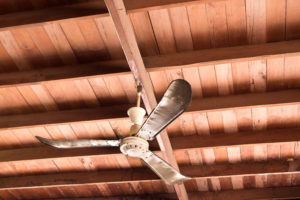 Our Kansas City ceiling fan repair experts have the experience to ensure your ceiling fans are operating as they should. Whether it's that dusty motor that's making weird noises,  or the ceiling fan looks like it's about ready to fly right off the ceiling because it's swinging so wildly, you can count on our electricians to fix it. If the ceiling fan doesn't work at all, we help determine if it's a sign of greater electrical troubles, or can be fixed by simply replacing the ceiling fan with a newer model.
We're proud to have provided expert residential electrician services for 15 years to the Kansas City Metropolitan Area. Our fully licensed and insured electricians take pride in their work and customer service. Through our extensive residential electrical knowledge, we are able to provide quality workmanship at competitive rates with a full guarantee on work and the manufacturer's guarantee on parts.
With that in mind, ceiling fans are a great investment because they can help you stay cool and keep the air in different rooms of your home circulating, saving money on your energy bills due to not needing to use the air conditioner so often. Ceiling fans require repairs every now and then just like any other appliance. When your ceiling fans give you trouble, JMC Electrical Service, Inc. is here to help.
JMC Electrical Service, Inc. Offers These Detailed Ceiling Fan Services:
Ceiling Fan Repair
Ceiling Fan Installation
Ceiling Fan Consulations
Outdoor Ceiling Fans

Ceiling Fan Wiring
Ceiling Fan Light Installation
Ceiling Fan Repair Parts
Modern Ceiling Fans

Ceiling Fan Motor Repair
Lighting Fixtures
Designer Ceiling Fans
Bedroom Ceiling Fans
In business since 2002, JMC Electric offers home, residential and business electrician services in Kansas City and surrounding communities. 
Contact JMC Electric at 913-362-2100 for a free estimate on your ceiling fan needs today.